Shipping
We ship Monday through Friday via UPS and the USPS.
UPS - Domestic
All classes of UPS domestic shipments are offered, including Ground, 3 Day Select, 2nd Day and Next Day service levels. UPS is unable to deliver to post office boxes. This chart provides estimated transit time for ground shipping throughout the United States. Estimated transit days do not include Saturday and Sunday.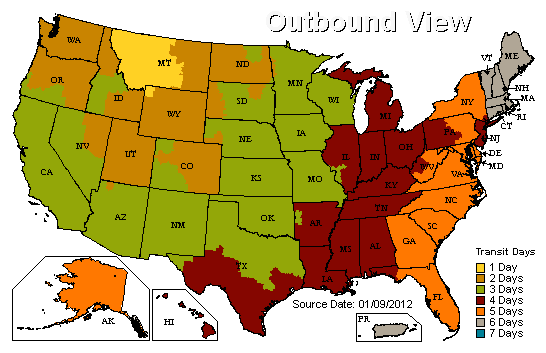 USPS - International
All classes of UPS International shipments are offered, including Standard, Worldwide Saver, Worldwide Expedited service levels. Customer is responsible for any local customs or duties.
If order is being delivered to a country other than the United States, it may be subject to import duties and taxes. These will be levied once the package reaches that country. Kerr's Cotton does not collect duties and/or taxes and cannot predict what, if any, additional charges may be incurred. If additional charges are incurred, they must be rendered in order for the package to clear customs. For more information about a particular country's customs policies, please contact the local customs office.
USPS - Domestic
All classes of domestic USPS including First Class, Priority Mail, and Express Mail.
FedEx - Domestic/International
We can make arrangements to ship your order via FedEx, however, you will need to contact our customer service representatives at 855.818.3126 to make arrangements for FedEx shipments.