Are your tie dyes handcrafted?
Yes. All of our tie dye designs are handcrafted and made-to-order right here in Montana by skilled artisans. We believe that the beauty of tie dye is that every shirt is unique and that no two shirts are identical.
Do you make custom tie dye designs?
Yes! We can customize most of the designs that we make and can modify colors to meet your specific need or project. For example, our dyemasters have done everything from creating two-color designs that are customized to a team's or school's colors, to abstract designs using a palette inspired by album art. To place and order for a custom tie dye design, please call us at 855.819.3126.
What is the minimum order quantity?
We require a minimum order of 24 garments of the same color/design. Any combinations of sizes and/or garment styles can be ordered to meet the minimum. If you have more questions, please speak with one of our customer service representatives at 855.819.3126 for more information.
How soon can I get my order?
We are a make-to-order shop—which means that we will make your order specifically for you before we can ship it. Our normal turnaround time is 5-15 business days. During our busiest months it could be a few days more. If you are working with a project that has a tight timeline, please call us to discuss your specific requirements so that we can develop a plan that will meet your needs. If you are really in a rush, we have a handful of designs that can ship same day as long as we have the quantities and sizes in stock and the order is received before 2 p.m. Mountain Time.
Are there any options to order less than 24 pieces?
Yes! We will accept an order for a minimum of 12 pieces from our Same Day Shipping designs.
What styles and sizes of garments do you have?
We offer a wide variety of garments including short sleeve t-shirts, long sleeve t-shirts, hooded sweatshirts, crewneck sweatshirts, men's sleeveless t-shirts, men's and women's tank tops, fitted women's t-shirts and tank tops, pique and jersey knit polo shirts, rompers, towels and bandanas. In addition, we offer a wide range of sizes from infant, toddler, youth and adult sizes up to 5XL & beyond.
What type of dyes do you use?
We use the very best fiber reactive dyes that will not bleed or fade. These nontoxic dyes change the color of the cotton fiber and nothing else. The properties of the cotton garment remain the same and do not impact or affect any decorating that you do to our garments.
What are Easy-To-Decorate™ tie dye designs?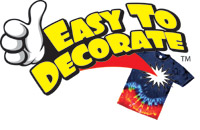 All of the tie dye garments that we make can be decorated in any number of ways. However, our Easy-To-Decorate™ designs are made with a solid area on the garment (body, center, left breast pocket, etc.) that is easy to decorate and yet still offers the fun of a tie dye t-shirt. Click here to see our Easy-To-Decorate™ designs.
Can I decorate Classic Design tie dye garments?
Absolutely! Over 90% of our types of tie dye designs are decorated. In fact, most kids young and old like the Classic tie dye look and these shirts can easily be decorated. We would suggest that you keep your lettering larger and avoid intricate decorating designs. If you have an intricate design, consider one of our Easy-To-Decorate™ designs. Click here to see our Classic & Easy-To-Decorate™ designs.
Will you dye my garments?
Yes! Please call us at 855.819.3126, and we will provide a custom price to dye your garments. In addition to t shirts, we have dyed beach bags, tuxedo shirts, oxford button down shirts, karate tops & bottoms, yoga pants, dish towels, scarves, union suites, socks, baseball caps and sundresses. So, if you have unique items that you would like to tie dye, give us a call.
Will you dye garments one solid color?
We prefer not to. We have seen a wide range of inconsistency in garment fabric from suppliers that does not result in a product that meets our standards. Please call us at 855.819.3126 to discuss and we can share the challenges and caveats in detail.
Other questions?
If you have any other questions our customer service representatives are here to help. Please call us at 855.819.3126, or email us at sales@tiedyewholsaler.com.